New in Town? 3 Tips for Meeting Neighbors Over the Holidays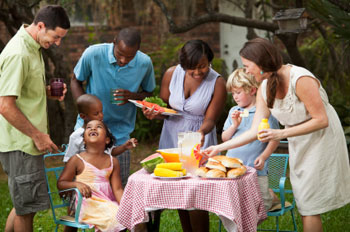 Buying a new home is a big decision – you're not only buying a building, but you're making a choice about the community you want to be part of. When you've moved into a new neighborhood, getting to know the people who live in the same community can feel daunting, but your new neighbors can be one of the best things about your new home. If you've moved in during the holidays, you have a few great built-in ways of meeting new people in your new community. Let's take a look at a few things we've learned about how you can get to know your neighbors over the holiday season.

Host a housewarming party
A housewarming party is the best way to break the ice with your neighbors. Playing host to a few of the families in your community can help you get to know them better over some good food and drinks. Keep it simple – going big in your plans can stress you out and prevent you from being cheerful and relaxed, and if you're focused on performance rather than relaxation, you could go through an entire party without really building closer relationships with people. It's best to stick to a few simple drinks and food everyone likes, so you're in the right frame of mind to get to know your neighbors.

Set up a play date
If you have kids, setting up a play date for them with the kids from the neighborhood can help you meet your neighbors in a relaxed environment. You can get to know other parents better, and it may also give you the opportunity to discover more about your neighborhood, talking about where the best play areas are, where the best stores are, and whether there are local sports or activities for your children. A play date also lets you keep your children occupied and helps them to feel more at home in a new area.

Offer to help out
Getting the house ready for the holidays can be a tough chore, and if you've just moved in, you can take the opportunity to cut yourself a little slack and save the lights for next year. In the meantime, it's a great opportunity to offer to help out a few neighbors get their lights up (or, if you're moving in later in the holidays, to take them down again!). This can help you get to know your neighbors better by doing something together. It can also help you join in on the holiday cheer and feel like a part of your new neighborhood – it's a great way to get started on the right note.

Of course, before you do any of these, walking up to your neighbors and greeting them with a cheerful hello is a good way to break the ice. If people offer to help you move in, say yes if you can – letting your neighbors help you out is also a great way to bond with them. And remember to relax; if you've just bought a new home, you're in the neighborhood for a while, so you have plenty of time to meet people and get to know your new community.